Justin Timberlake Debuts New Chris Stapleton Duet "Say Something" (VIDEO)
Another week, another new Justin Timberlake song. We've heard "Filthy" and "Supplies" from Man of the Woods, but now we have "Say Something," Justin's new collaboration with country superstar Chris Stapleton.
"Say Something" is an upbeat, guitar driven pop song that shines the light on Timberlake and Stapleton's undeniable vocals, and even more incredible relationship as friends and as amazing collaborators.
Just before the release of "Say Something," on Twitter, Chris said of collaborating Justin again, "Proud to be a part of this my friend." Justin and Chris previously came together for their unforgettable 2015 CMA Awards performance of "Tennessee Whiskey" and Justin's "Drink You Away."
Along with the release of the song, is the "Say Something" music video, directed by Arturo Perez Jr. The visual opens with Justin in a basement setting, creating the beat for "Say Something" on a laptop and studio equipment. Then, he walks over to a guitar, picks it up, starts playing, and takes the elevator up to meet Stapleton as the song builds from JT's original beats.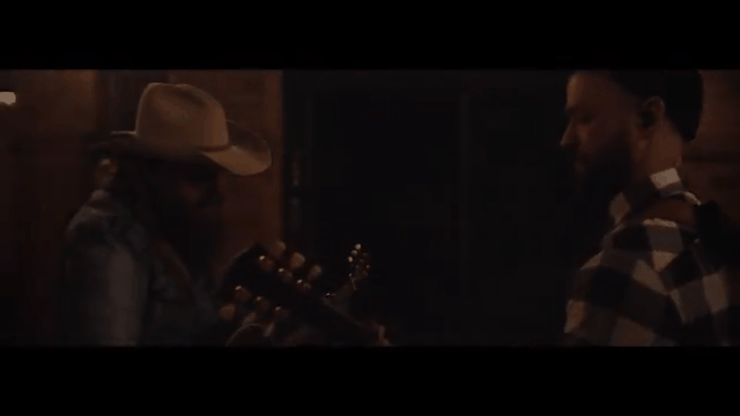 Man of the Woods will be Justin's fourth full-length studio album, and is set to be released via RCA Records on February 2nd. The album is said to combine the sounds of "traditional American rock with modern influences of a few of his collaborators," which not only includes Chris Stapleton, but The Neptunes, Timbaland, and Alicia Keys as well. And as for lyrical content, the stories behind the songs are inspired by his son (Silas), his wife (Jessica Biel), and his personal journey from his hometown Memphis, Tennessee, to where he is today.
In a video trailer for the album, Justin said, "This album is really inspired by my son, my wife, my family, but more so than any other album I've ever written, where I'm from. And, it's personal."