Nick Jonas & Priyanka Chopra Wear Coordinating, Traditional Indian Outfits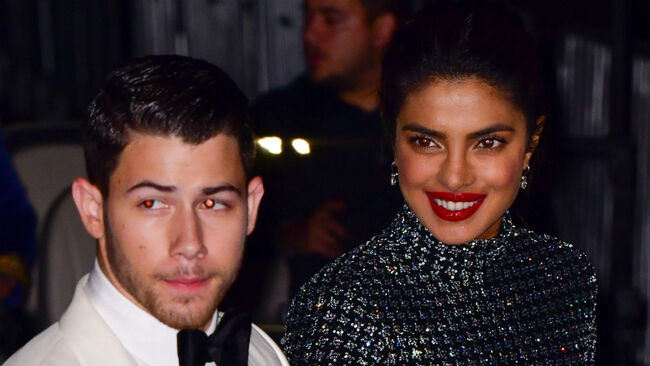 The matching outfits continue!
Nick Jonas and Priyanka Chopra wore coordinating outfits for the second time this week, and it couldn't have been any cuter. On Friday (September 21), the engaged twosome continued their post-engagement world tour (they've been everywhere lately), this time visiting Lake Como, Italy for their friends' engagement ceremony.
The 26-year-old singer and the 36-year-old actress wore coordinating, traditional Indian outfits for the big day, which was for Indian stars Isha Ambani and Anand Piramal. Priyanka wore an embellished, nude sari, while Nick sported a black bandh-gala (oh-so-chic!).
The last time the two were both in traditional Indian ensembles was at their own engagement ceremony in August. As previously reported, the lovebirds traveled to Priyanka's home country of India to celebrate their engagement, which brought their families together for the first time.
"After we got engaged, we went to India, to her home country, to Mumbai, and my parents came along. We did this beautiful Roka ceremony," Nick said on The Tonight Show Starring Jimmy Fallon earlier this month. "It's a confirmation from both sides of the family that they approve of the engagement. There's some beautiful prayers and a connection just for the family to have a chance to meet and hang out. It's really incredible."
"We both left that ceremony so full of joy," he added. "For she and I, I think it was just nice to have that time with the family first. Have that private moment then be able to share with the world afterwards."