Celebrities Flee From Wildfires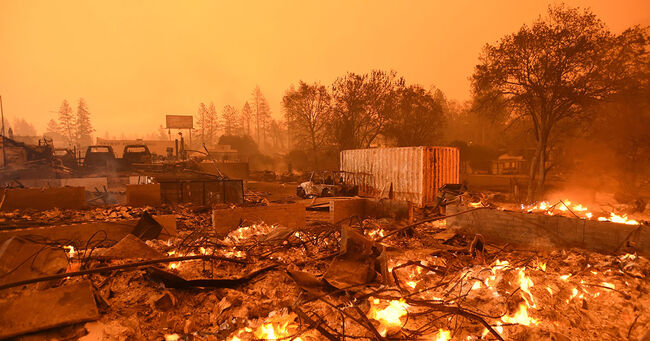 Several fires in California erupted Thursday morning, causing hundreds of thousands of people to flee. Entire neighborhoods have been decimated and the business district of the Paradise, California (population 27,000) has been destroyed, CBS reports.
Two Southern California fires have also forced evacuations; the 35,000 acre Woolsey Fire is not contained and 200,000 people have left their homes, while the Hill Fire has singed 6,000+ acres.
Several celebrities have joined the hundreds of thousands of other residents who are escaping with whatever they can grab. Kim Kardashian left her Hidden Hills home, tweeting: "I heard the flames have hit our property at our home in Hidden Hills but now are more contained and have stopped at the moment. It doesn't seems like it is getting worse right now, I just pray the winds are in our favor. God is good. I'm just praying everyone is safe."
Kourtney Kardashian also left, writing on Instagram Stories: "I pray that everyone is kept safe and protected from these fires. No Calabasas tonight."
Khloe Kardashian joined her sisters, writing on Twitter: "I just left with the clothes on my back but I think I packed Trues entire bedroom and closet into my car obviously she's all that matters to me." Later, her sister Kim shared a shot of herself kissing Khloe's daughter True, saying it was a good reminder to value the truly important things in life.
Alyssa Milano also fled, writing on Twitter: "I just had to evacuate my home from the fires. I took my kids, dogs, computer and my Doc Marten boots. (Husband is in NY. Horses are being evacuated by my trainer)."
Will Smith also shared his flight on Instagram Stories, posting that despite not technically being in the evacuation zone, he and his family decided to get out.
Orlando Bloom hailed the firefighters as he left his flaming street.
Caitlyn Jenner, Rob Lowe, Martin Sheen and Cher were also among the many other evacuees. Gerard Butler, Shannen Doherty, Camille Grammer and Robin Thicke are among the celebs who lost their homes to the flames.

Harold Mann
Want to know more about Harold Mann? Get their official bio, social pages & articles on KLVI AM 560!